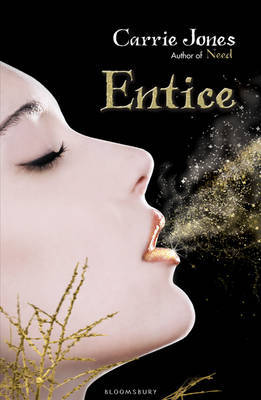 Entice Summary:
Zara and Nick are soul mates, meant to be together forever. But that's not quite how things have worked out. For starters, well, Nick is dead. Supposedly, he's been taken to a mythic place for warriors known as Valhalla, so Zara and her friends might be able to get him back. But it's taking time, and meanwhile a group of evil pixies is devastating Bedford, with more teens going missing every day. An all-out war seems imminent, and the good guys need all the warriors they can find. But how to get to Valhalla? And even if Zara and her friends discover the way, there's that other small problem: Zara's been pixie kissed. When she finds Nick, will he even want to go with her? Especially since she hasn't turned into just any pixie. . . She's Astley's queen.
Entice Review:
The third book is my second favourite book in the series, mainly because of the lack of Nick. I'm not saying I didn't like Nick, I do, He's a pretty sick characters, but in the second book with Zara and Nick constantly calling each other Baby, it kinda got annoying. Also, more Astley and you see Zara wonder if she likes Nick or Astley better. Also, Zara's dad does something everyone was surprised about but was expected by all of us deep down.
In this book Zara figures more about herself, who she is willing to trust and in a sense what is going beyond her little life. Issie and Devan get more of a closure than the previous book and I'm happy about that. I always wanted to see more of them.
In this book you see how much pain Astley is willing to see to make Zara happy. You feel so sorry for Astley because you learn his history what is he has been going through for his whole lfie. You just want to give him a big hug and take away his pain. He is a lot more vulnerable in this book. Betty is an epic white tiger as you can tell from the very beginning of the series. Nick is still a bit annoying because of the Pixie hating thing going on. This book is really humorous and is good for a couple laughs.
This is a lot more serious than the other books because of the amount of death going around and the pain that everyone individual character has to face. Entice brings out the vulnerability in every character and shows what they were feeling inside and can't let it outside. All their weaknesses and strengths in one book. And a deep message from Astley to Zara which is epic in its own way. The fourth book is going to be the last one. Waiting for the epicness.