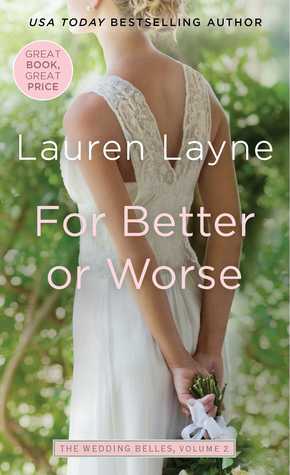 For Better or Worse Summary:
Will a budding wedding planner and her bad boy neighbor stop banging heads and start hearing wedding bells in the sexy second novel in USA TODAY bestselling author Lauren Layne's irresistible new series that marries Sex and the City with The Wedding Planner?
When small-town girl Heather Fowler finally gets promoted from assistant to actual wedding planner, she's determined to make it as one of Manhattan's elite Wedding Belles. Unfortunately, her first client demands an opulent black-tie affair at the Plaza…in five months' time. Heather's days quickly become a flurry of cake tastings, dress-fittings, RSVP cards, and bridal tantrums. But what she's really losing sleep over is the live music blaring from her playboy neighbor's apartment all night.
Five years ago, Josh Tanner was an up-and-comer on Wall Street, complete with the penthouse and the migraines. But a grim cancer diagnosis made him realize there is more to life than the corner office. If only he could convince his pretty, workaholic neighbor to let loose, too. As Heather lets down her guard, Josh is surprised when he starts falling for the sweet, vulnerable woman hiding beneath those power suits. Soon, it's Heather's turn to convince Josh to take the biggest risk of all: love.
For Better or Worse Review:
For Better or Worse is another stellar book in the Wedding Belles series! From the very beginning, the book is hysterical and that transitions smoothly into a breathtaking romance. This is one of the best romance novels I've read by this author. It couldn't have been better, and looked especially good compared to the previous book (which was already pretty good). The couples are amazing, the plot was captivating and the writing flowed seamlessly. The best part is that each character is different even across her series', meaning Josh and Heather were as unique as any other character. For Better or Worse proved to be absolutely perfect and real.
"Can you please, please just shut up until after I leave at seven tomorrow?"
"To go...to the baker?" he asked hopefully.
Heather proved to be a great heroine to rally behind. When she faced adversary she didn't back down but put her big girl shoes on and stepped to the challenge. She never went to far as she knew when to ask for help. She has an awesome sense of humor and a great personality. There were two things that I loved about Heather. First, when she had to break away from Josh (not a spoiler, it's romance obviously it will happen) she didn't turn on him. She would be there for him, and knew she could not stop loving him. I appreciated her honesty about the situation. Second, her journey to finding herself. While she needed a push in the right direction, she was still honest with herself. She found what was not working and changed it so that it could help her.
"She patted his arm. 'Let's just say I think we figured out how to make amends for all those sleepless nights you've cause me.' Heather looked around at the other Belles' encouraged expressions and smile almost maniacally. 'You, Josh Tanner, are going to help me plan this wedding.'
Josh starred at her before glancing around the table to see if anyone else was concerned that she was losing her mind. To his horror, the women were all nodding in awed agreement. Seth Tyler gave him a sympathetic look and handed him a nearly fully champagne bottle."
Josh was a sweetheart. An alpha that was never too domineering and was very vulnerable. I enjoyed the fact that he wasn't perfect and needed to learn from others to fully heal. His secret was a huge one that I didn't see coming, but did kind of expect. Lauren Layne did a stellar job talking about his sickness without going overboard and becoming a tear-jerker. His reaction to love was not only real but beautifully written. Even if I didn't agree with his actions, I understood why and that really changed how the book turned out. Finally, this journey to accepting love was stunning. His change from a lost victim (sorry if that's a trigger) to a strong man. And his surprise at the end had me laughing out loud!
Because Josh Tanner was...in front of her. In an airport. In a tux...."I love you," he said. "I had this whole speech planned out, and Alexis and Brooke and my sister proofread it with a red pen and everything, but as I'm kneeling here awkwardly I realize it's all unnecessary. I love you. I love you more than is sane for any man to love any woman. All the way to the ends of the earth. Damn is that cheesy?" He shook his head slight. "Maybe I should brought the speech after all"
This whole chapter had my heart soaring and my face cramping from all the smiles it brought. I had to edit some stuff out because of spoilers and the quotes do not do the book justice!
One thing though, is the grammar. I'm not sure but there was one are where the words were not flowing as well. The example is in the quote below Heather's paragraph. I think it should be smiled not smile. But I also understand this is an ARC so this can always show up.
Overall, a definite 5 star read! The side characters were amazing as in any Lauren Layne book and helped to develop the main couple. Like I said above, there were no flaws in this book. It was so enjoyable that I read it in a couple hours. Without going overboard, Layne managed to make us root for Heather and Josh and feel with every word. It captivates you from the very beginning and this is one book that I will highly recommend!
Thank you to Netgalley for providing an ARC in exchange for an honest review!