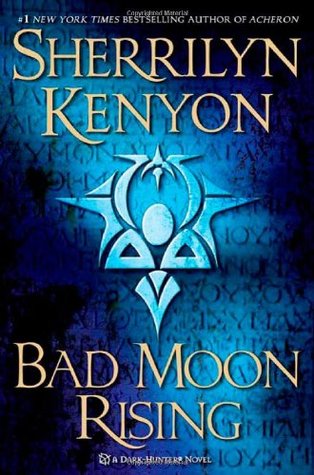 Bad Moon Rising Summary:
Fang Kattalakis isn't just a wolf. He is the brother of two of the most powerful members of the Omegrion: the ruling council that enforces the laws of the Were-Hunters. And when war erupts among the lycanthropes, sides must be chosen. Enemies are forced into shaky alliances. And when the woman Fang loves is accused of betraying her people, her only hope is that Fang believes in her. Yet in order to save her, Fang must break the law of his people and the faith of his brothers. That breech could very well spell the end of both their races and change their world forever.
The war is on and time is running out...
Bad Moon Rising Review:
This book is another that DH fans have been waiting for since Night Play. To understand this book you should read the previous Were-Hunter books to understand the plot and the characters. This is because Aimee and Fang's love story starts at the same time as Night Embrace or even before then. And continues throughout the rest of the series, while weaving in and out of various realms. It was at times, confusing.
I can agree with many fans when they say they were kind of disappointed of the novel. This was yet another romance novel, not in the DH series, where the characters were forbidden from each other. This caused a lot of angst, drama and complicated scenarios. On the other hand, the romance was good, the plot was developed and the characters had enough depth to show varying personalities. One strong point for this novel was that it contained no insta-love. The two have a had a forbidden love for each other for years, and it was great to finally see a love story actually develop over time. Also, the end was devastating. Something that left readers speechless, either from the stupidity of Aimee and Fang or from the losses that they now face. What could have been added to the novel to make it better was more scenes in the present. A lot of it was a reflection of the previous books and was unnecessarily repetitive. On top of that we were constantly jumping from realm to realm, and keeping up with all of this was a challenge. My strategy...just distance yourself from the book and live for the scene you are reading. Just kidding! I keep a notebook beside me to make sure that I have general idea of what is going on.
Unlike some previous books, the secondary characters were not better than the main characters. They complimented the story and surrounded themselves with humor, mystery and suspense. While the main characters leaned on the others to give them a good support and to highlight the imperfections and perfections of each character. It was great to see a deeper look into the Were-Hunter species. We also got to meet some very interesting and new characters that I hope we see more of.
Overall, this book was a 4.5 star rating. It was had a captivating yet confusing plot. Side note: I'm not the only one to realize this as well. It seems that Ms. Kenyon's writing has changed and not always for the better. She is consistently applying the damaged hero and mary sue heroine, not always leading to success. It worked here, but it is starting to become a bit tedious and is taking a larger affect on her League series.